Review: Turned Into Her Maid by Amy Stevens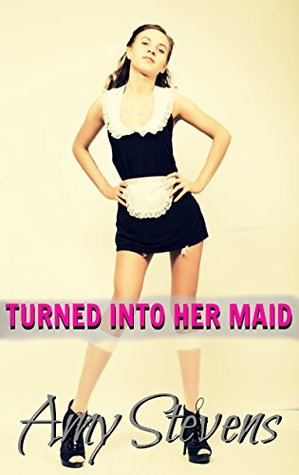 TURNED INTO HER MAID: (Transformation, Feminization, First Time)

by Amy Stevens
Buy on Amazon
Goodreads


Kelsey and Alex have been married for five years, but when she thinks he's cheated on her, she gets really angry and when Alex promises to do anything she wants if she forgot the whole thing, she takes her chance to turn her husband into her cute sissy maid.

He's hesitant at first but since he's become submissive to avoid fights, she's the one in charge and he reluctantly accepts to become a sexy crossdresser. But at what price? He doesn't know how kinky his wife is going to get and what naughty and outrageous plan she has in mind for her new-found maid 'Alexis'.

This 4.5-K word sissification story is kinky, dirty, naughty and outrageous.
Only mature adults who won't find that offensive should read this.
Frequent readers of my reviews may be used to my complaints with some trans fantasy erotica, and I'm disappointed to say that Turned Into Her Maid is a violator of almost every pet peeve I have.
On its face, it is the story of a domineering wife who, thanks to the discovery of texts on her husbands phone with a former girlfriend, resolves to punish her husband in the most demeaning (and exciting) way possible, i.e. dress him in a maid's uniform, lock him in a chastity cage and force him to watch as she is serviced by a "real" man.  In the process, our hero (?) will also learn to service the handsome stud who has been chosen by his wife to be the recipient of our sissy's first blowjob.
And that's pretty much it.  There are some definite ick moments for me, in that I am not especially partial to foot fetish stories, nor the near-constant use of saliva as a means of degradation.  There is a LOT of people spitting on their feet in this one, but if that's your thing, I still wouldn't recommend this, unless there are truly no other stories with this as a motif, something I find hard to believe in the world of e-book erotica.
For starters, the story is rife with misspellings, improper word choice and even something so basic as subject/verb agreement.  It is sloppily written, thought there are moments of description that suggest Stevens isn't a bad writer, merely a lazy one.  Aside from my issues as a contrarian grammarian, there is the issue of using such a high number of the pages in the short as advertisements for other stories by the author.  Again, let it be known I do not fault an author for advertising their own work.  In the world of self-publishing, it is an absolute necessity.  What I find egregious here is the fact that 40% of this particular short is made up of ads.  Given the careless nature of the writing, I find it difficult to believe that many would be too enticed by the promise of more of this sort of narrative.
Everyone is unique, to overstate a point, and that means everyone has things that turn them on that may be sometimes obscure.  For some readers, it may be difficult to find stories that fit their particular interests, but it is the duty of the author to try to provide those stories in a way that is, at minimum, done in a way that respects those singular kinks.  Am I always successful in my attempts?  Of course not.  But I do strive to be respectful of my readers, too.  And that is something that is lacking in this short.
I would never suggest that Amy Stevens is trying to capitalize on a kink here.  I think she is genuinely interested in the material, but it is conveyed in too haphazard a manner to recommend this book.  I will, I'm sure, read more of her work, crossing my fingers that her other efforts are far more confident in their execution than this.