Review: Turned Into the Vampire's Bride 2 by Lisa Change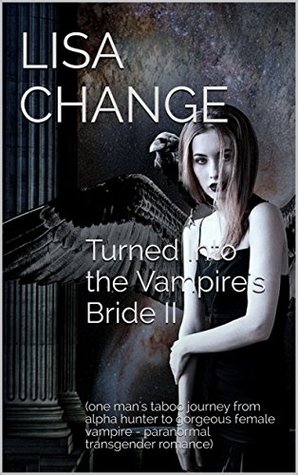 Turned Into the Vampire's Bride II: (one man's taboo journey from alpha hunter to gorgeous female vampire - paranormal transgender romance)

by Lisa Change
Series: Turned Into the Vampire's Bride #2
on May 19, 2017
Pages: 43
Buy on Amazon
Goodreads


Jason Harker used to have it all. Big muscles. A strong, masculine body. An alpha male job as a vampire hunter. Then he met the handsome, dangerous Count and was forced to magically become a beautiful vampire girl!

Now trapped as the Count's stunning redhead bride Jasmine, Jason must try and fight his new body's insatiable urges. From his need to feed to his desperate need to breed, Jason's sexy vampire form is forcing him to confront his own darkest desires. But things go from bad to worse when the hunky Count decides to take their relationship a step further… by forcing Jason to become his immortal undead wife!

Will Jason find a way to escape a future of bloodsucking and steamy sex with this powerful European aristocrat? Or will he be helpless to resist the dark allure of his musclebound new alpha owner?

The concluding chapter of Lisa Change's paranormal TG vampire romance keeps the breathtaking twists coming as Jason careens towards an erotic showdown with his hunky undead lover. Join this former-male as he learns to love his stunning new female body, and discovers the dark thrill of being seduced by a powerful, dangerous man…

This original adult romance features 10.6k words of HOT transformed-human on vampire-stud action! Includes spine-tingling scenes of taboo romance, seduction, lesbian encounters, sex between a gender-swapped man and his hunky male lover, cross dressing, sexual orientation reversal, body puppet control, feminization, and giving in to your most-secret desires. Please note: this is both a romance and a horror, so please avoid if you dislike descriptions of violence/bloodsucking, etc.
I have been excited to read the next installment in this series, and I was not disappointed!
When last we left our hero, Jason Harker, he had made a deal with the powerful Count to be turned into a vampire, ready to be done with all his vampire-hunting ways in favor of becoming an immortal monster with his own harem of vampire ladies to serve him.  Unfortunately for him, he was not hip to the fact that a human male could be turned into a female vampire, leaving Jason in the sexy body of a vampire woman whose every impulse is to serve her Master, the Count.
This time around, Jason – aka Jasmine – is doing his level best to keep what remains of his tattered soul intact, and that means not eating the evangelical missionary who shows up on the Count's doorstep.  He knows that to give in to this hunger is to lose himself forever as one of the Count's many gorgeous puppets, a mindless slave for all eternity.  The problem is, his new body desperately wants this outcome, and some quality time in the Count's bed is not going to make his resistance any easier!
While Turned Into the Vampire's Bride 2 lacks the thrill of Jason's initial transformation into Jasmine, there is something undeniably exciting about someone trapped in a body that is determined to betray the mind.  This story lives in that struggle, and finds a satisfying end to it all, if it does tease a potential sequel, as well.  I'd be curious to read more in this vein (hehe) if Lisa Change decides to continue the story.  It's a short tale, or perhaps only feels short thanks to the direct and enjoyable writing, but if you're not looking for a more leisurely romance, this is a quick and erotic read.
Some of my previous complaints still hold true in this series.  There are a handful of misspellings, or word choices that may have been what the author intended, but feel like mistakes.  These are few, though, and certainly less than I noticed in the original story.  Also, it doesn't suffer the same almost-as-many-samples-as-story-pages, though there's a nice quick tale at the end of this one worth a read, too.
I like Lisa Change's supernatural influence, I like her writing style and I like that this story has an end.  So many authors will tease a sequel and never deliver, but now this cycle of Jason Harker's conversion and corruption feels complete.  If, like me, you could use some vampirism in your transgender erotic fantasies, I think you'll enjoy this.  I know I did.