Review: The Assistant by M.C. Questgend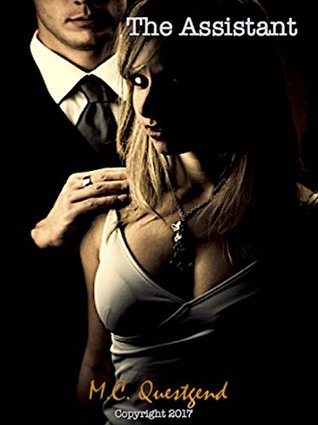 The Assistant

by M.C. Questgend
on May 17, 2017
Pages: 164
Buy on Amazon
Goodreads


The Assistant is a romance story about love found in the workplace, just not in the most conventional way. Successful young businessman, Cory Jones has been hounded by his staff to hire an assistant. Reluctantly he begins the search only to find Alex who absolutely stunned Cory with her unique set of skills. The two form a trust and mutual respect for one another that has now impacted the company. You see, Alex has a secret that was recently uncovered during a routine background check. Fearing the worst, Alex offers to quit rather than jeopardize the company, but Cory has other ideas as his feelings for her have grown and he can't just let her go.
I have been awash lately in steamy shorts with a heavy focus on the erotic part of erotica.  That's not an issue, necessarily, but perhaps it explains why I was so ready for a story like M.C. Questgend's The Assistant.  Unlike the previous reviews of late, this story is a bit longer, and focuses far more on the burgeoning romance between a CEO in dire need of an extra pair of hands and a transgender woman named Alex, who only wants to live a normal life.
When Alex is first hired by her new boss, Cory, she immediately falls under scrutiny from his associate, Frank.  As tensions rise, Alex reveals her birth gender, as well as a more sordid moment from her past which could imperil both her future in Cory's company and the company itself.  Without giving too much away, there's a bit of corporate intrigue I frankly would have liked to have seen more of, but there's enough plot to hang your hat on.
The thrust of the story is the romance that ignites between Cory and Alex.  It is slow and steady, and if this story can be called fantasy, it is possibly in the idealized nature of the relationship between the two characters.  That said, it is frank and believable, and I found myself really rooting for both of them as their relationship becomes a subject of scandal.
There are some drawbacks, though.  Like many in this subgenre, The Assistant could have used another pass or two to clean up some grammatical and spelling errors, but there is nothing too distracting to warrant a pass.  Ironically, my least favorite moments in the story came from the more erotic scenes, of which there are few, but they are explicit.  Given the underlying tenderness of the relationship, the sex felt a bit too raw and more in line with an erotica short where the sex is the focus than a more carefully-paced story such as this.  Maybe I'm just a prude.
Aside from my minor complaints, I really enjoyed my time with The Assistant, and I look forward to exploring more of M.C. Questgend's work.  Sometimes you need a quick, passionate roll in the hay with a story and sometimes, like with this one, you prefer to be wined and dined a bit and left feeling a bit better about the world and its possibilities.  Recommended for all of us who want a little sweet with our sexy!