Review: Crossdressing Husband by Lana Ellis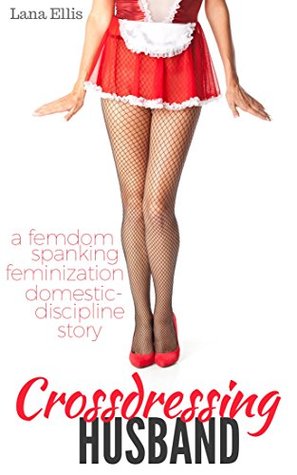 Crossdressing Husband: A Femdom Spanking Feminization Domestic-Discipline Story

by Lana Ellis
on April 27, 2017
Pages: 34
Buy on Amazon
Goodreads


Adam whimpered and sniffled as his wife's hand slapped his burning bottom again and again, but he knew better than to try and get out of taking his punishment. How could he explain the pair of panties that she'd found? The ones that they both knew didn't belong to her?

Strict, dominant, and a firm believer in domestic discipline, Claire will get the truth out of her sissy husband, and when she does… He's going to be feminized beyond his wildest dreams, locked in chastity, and taught what it really means to be made into her sissy slut for the very first time.
Lana Ellis's Crossdressing Husband is like a quick, but passionate, kiss stolen in the dark.  It is brief, exciting, but ultimately a bit of tease.
The story revolves around Adam and his rather unusual relationship with his wife, Claire.  Claire is the dominant in the relationship, and, when she finds a pair of panties among her husband's things, she demands he come home from work at once to explain himself.  Of course the panties belong to Adam, but Claire will have to do a fair amount of spanking and cajoling to get him to admit to it.  When he does, Claire will give him a sissy night unlike any he's imagined.
Less a narrative than a quick blast, a glimpse of one night in this uncommon marriage, Crossdressing Husband is a finely-detailed and exciting slice of life tale, but lacks a sense of story and payoff (other than the most physical).  That's not to diminish Ellis as a writer, as she is quite good.  I look forward to reading longer pieces from her in the future that might marry the fun and sexy scenes of sissification and play with a larger story.
If you want that quick kiss in the dark, a story designed and efficiently executed with a single hot scene in mind, this is a fine read.  If you want a little more story with your kink, this will be a bit of a disappointment.