Review: Turned Into the Vampire's Bride by Lisa Change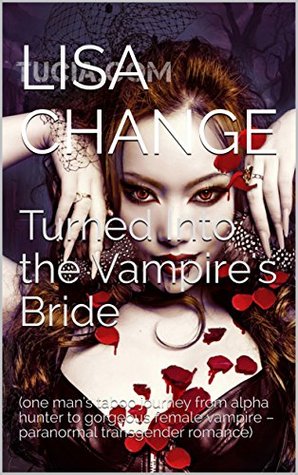 Turned Into the Vampire's Bride: (one man's taboo journey from alpha hunter to gorgeous female vampire - paranormal transgender romance)

by Lisa Change
Series: Turned Into the Vampire's Bride #1
on May 2, 2017
Pages: 46
Buy on Amazon
Goodreads


Jason Harker is the best vampire hunter in the business. The guy whose name strikes terror into undead hearts across the world. He's the alpha, the hunter, the macho man… until now.

On a routine hunt one night, Jason finds himself caught in a hideous trap set by his nemesis, the Count. But this hunky aristocratic monster doesn't just want to kill Jason. He wants to make the hunter suffer… by forcing him to become his vampire bride!

Trapped as the beautiful, undead redhead Jasmine, Jason must now battle with the dark urges of both his bloodsucking side and his nubile female form. Because the Count has big plans for Jason. Plans that won't stop until this former hunter has fallen in love with him, and become his obedient, bloodsucking wife!

Will Jason escape his girl-body and regain his male form? Or will he discover that being seduced and controlled by a musclebound vampire stud is what he secretly wanted all along…?

The latest paranormal TG romance by Lisa Change – author of kinky sci-fi epic Gender Swapped for Her Pleasure – is a gothic thrill-ride into the heart of man's hidden desires. Join Jason as he is forced to adjust to his sexy new female form, and experience the sensual joy of forbidden seduction right alongside him…

This original adult romance is approx. 10.5k words, and features an exquisitely described TG scene, as Jason is forced to become the gorgeous undead Jasmine. Includes scenes of taboo romance, human-on-vampire action, masturbation, lesbian intercourse, cross dressing, sexual orientation reversal, and body puppet control. Please note: this is both a romance and a horror, so please avoid if you dislike vivid descriptions of violence/bloodsucking, etc.

Part Two is coming soon!
I am so close to loving Turned Into the Vampire's Bride.  It has so much of what I look for in a piece of tg fantasy fiction,and yet…
First, I understand the characters.  Jason Harker is a vampire hunter on the trail of "the Count," who has holed up in a dilapidated home with his bevy of vampire brides, all of whom are beautiful and seductive.  However, Jason is after something more interesting than revenge or the simple destruction of his vampiric foe.  Jason feels that the tide of the war against darkness has turned, and he'd rather be the one with the long teeth and harem of undead slaves than the poor sucker (hehe, sorry) who spends his nights cutting them down.  Unfortunately, the Count has plans of his own, and Jason will find himself in the grip of the Count's influence, and in a new, more feminine, form.
I also adore paranormal stories, so the fact that the setting is an abandoned house infested with vampires…?  I'm on board in a big, big way.  Taking the idea of Dracula's brides and exploding that into a whole collection of vampire beauties is sexy, too, and there's plenty of reason to want to be in this world, surrounded by dark seduction.
And transformation stories are my favorites.  In this case, it's both human to vampire and male to female, so my buttons are being pressed just right in this story.
But, it's not all perfect.  Though the writing style is good, there's a frequency to some of the vocabulary that's unfortunate (almost every vampire girl's vagina is 'plump' and every breast 'pert'), and the casual nature of the writing, while fitting for the main character who narrates the story, is somehow too light for the story unfolding here.  Perhaps it's my own love of Gothic literature, but I would have liked a bit more 'dark and stormy night' rather than the more colloquial tone.
Lastly, the story is very brief.  Almost 30% of the book's 46 pages are samples of other stories.  I understand advertising other stories, of course, doing it myself in my own work, but such a weighted volume of story to ads feels a bit deceptive when readers are purchasing the book for themselves, so fair warning.
That said, this story does so much right, so much I like specifically according to my tastes, I still recommend it to readers who like some Hammer-inspired horror in their tg erotica.  A second chapter is promised, and I hope it comes soon!  I want to follow this story more, and I think a collection with all the chapters might be the way to read this tale.  For now, I'll keep an eye out for the further adventures of Jason Harker and his battle of wills with the Count!