Review: Just Desserts*: Strawberry Cheesecake by Zayna Noble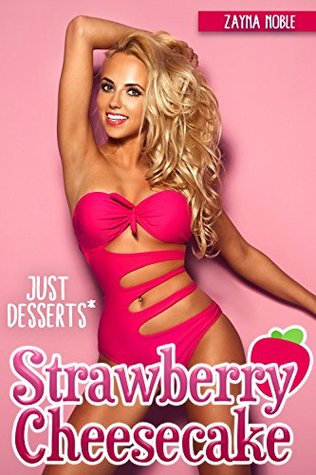 Just Desserts*: Strawberry Cheesecake (Gender Swap Bimbo Transformation Erotica)

by Zayna Noble, Nessa Triskelion
on May 9th 2017
Pages: 30
Buy on Amazon
Goodreads


At Just Desserts*, patrons may get more than they bargained for.

Daniel and his roommates are stunned by how hot the wait staff is. When Mitch, Jack, and Chad take their enthusiasm too far, the bombshell manager has just the right dessert for them to try.

In moments, three of the men are transforming, losing muscle mass and gaining curves! Surrounding Daniel are three ultra hot girls with little in their heads except a raving desire for pleasure!

Will Daniel be able to survive the onslaught of the three new bimbos until he can convince the manager to change them back?
Like it's title implies, Just Desserts*: Strawberry Cheesecake is a confection.  Sometimes I love to settle in with a long tale of feminization or some other kink and let the author take me on a long ride, filled with rich characters and unusual and unexpected situations.  And sometimes I want a story like this.  It's brief, the characters, at least at the outset, little more than caricatures of masculinity and the events which unfold do little to surprise as a reader of many, many genderswap stories.  That said, I kind of love this story for everything that it is, rather than what it is not.
A quartet of young men enter a restaurant, aptly titled Just Desserts.  While ogling the waitress/owner, all of the men – save one, Daniel – engage in some lewd talk about what they'd like to do to this particularly voluptuous woman.  When she serves them up their desserts, the three men go through an almost instantaneous change to bimbo womanhood, leaving Daniel as the lone male to deal with their new urges.
Of all the stories I've read recently, this was perhaps the most mistake-free, a common complaint I have among self-published stories.  I think I caught one misspelling, which is a minor offense, at best.  The writing is crisp and detailed enough to paint a picture without lingering too long on the incidentals.  With bimbos in the mix, you know you're getting to some sex, and those scenes are well-written and fun, erotic without being lewd.  Perhaps the most enjoyable moment in the story comes when the three men-turned-bimbos have to fight over Daniel, and work out a sort of bimbo pecking order with each other.  It's all very breezy and light, and manages to be short without feeling unfulfilling.
Really, my only criticisms are that this type of story, while very fun, probably won't linger too long in my memory.  Like cheesecake itself, it's tasty and sweet, but not quite a meal and doesn't have the qualities to be a story that could be called a classic in this subgenre.  Still, if you're hungry for something quick and sexy, Just Desserts*: Strawberry Cheesecake is a fine way to spend a few minutes of your time.