Review: Turned Into a Fembot by Lisa Change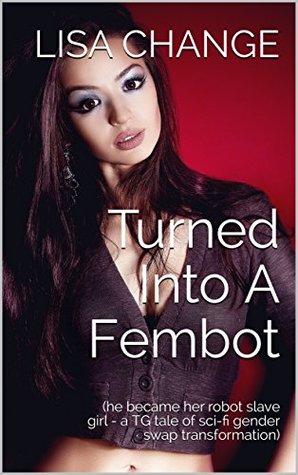 Turned Into A Fembot: (he became her robot slave girl - a TG tale of sci-fi gender swap transformation)

by Lisa Change
on July 6, 2017
Pages: 85
Buy on Amazon
Goodreads


Small confession, I have been working on a particularly long and plot-heavy story of late, and perhaps that's why I enjoyed my time with Lisa Change's latest as much as I did.  Lisa Change is always reliable for a fun story with a fun kink or two thrown in for good measure.  You may recall that I enjoyed her recent vampire stories quite a bit, and this one is no different, but with some upgrades (hehe, because it's about fembots) that I found strengthened her already-good work.
Jacob Flex is a brilliant and wealthy scientist whose company has been pushing forward artificial intelligence technology for use in lovebots, and, let's be honest, once we have working robots, who wouldn't one?  His employee, the beautiful and equally brilliant Jen, has finally realized that dream and now their series of CANDIE robots can be more lifelike than ever before.  Unfortunately, Jen has a husband, Dan, who also works in the same company and has gotten wind of the affair between his wife and the powerful Jacob Flex.  Of course the cuckolded engineer finds a way to put the minds of his unfaithful wife and boss into androids which he is able to control with the mere sound of his voice.
Obviously, all manner of sexual exploration occurs as Dan humiliates those who have wronged him, and forces them into a scenario in which their fates appear to be sealed, but Lisa Change enjoys a twist or two and, while not shocking, the end gives us a nice moment of debate as to the true nature of happiness.  The plot never gets in the way, but there's more than enough to justify the more erotic scenes in the story.
In addition to the fine construction of this story, it is quite competently written, if not overly poetic, with few enough mistakes to be barely worth mentioning.  Also, my frequent complaints about using too much of a short's length for advertising is minimized here, so the purchase price feels like a good value, as well.
While this story doesn't reach the heights of a classic, it is a well-written, fun, sexy and even bittersweet tale that is well worth your time, and especially if you find those scenes of someone trapped within their own consciousness exciting (as I do).  A great time!