Review: Femboy Finishing School by Rebecca Sterne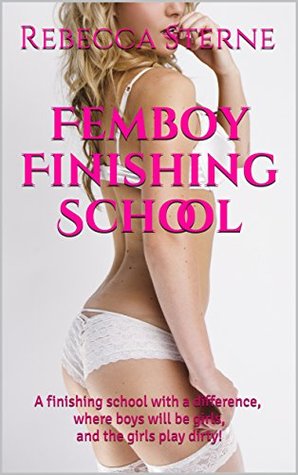 Femboy Finishing School: A finishing school with a difference, where boys will be girls,and the girls play dirty! (Transgender Erotica, Gay, Femboy, Forced Femme, Sissy Fiction)

by Rebecca Sterne
on July 10, 2017
Pages: 87
Buy on Amazon
Goodreads


Stacy Cox is a nineteen year old boy, slim, and as far as his stepmom Cherri is concerned, of a delicate and somewhat feminine nature. Her attempts to have him find work to supplement his college education have failed. It's time to force the issue and find him a future that will benefit them both.

Cherri's sister has the perfect answer. The Femme Fatale Finishing School is a school with a difference, and as luck would have it she just happens to be one of its resident tutors. She always knew this day would come, or at least she'd hoped it would. Now she has the chance to take her sister's stepson under her wing and mould him into the sexually subservient femboy that she's always considered him to be.

For Stacy a new and unexpected future awaits. He could never have imagined the lengths that his aunt would go to in order to have him transformed into such a sexual creature. The very idea that his stepmom has been complicit in such plans only serves to reinforce his subjugation.

Follow Stacy as he finds himself entering the ultra feminine world of the femboy, where he's quickly feminised and sexualised by his aunt and her very own finishing school. Life will never be the same, and nor will he!
Rebecca Sterne has been doing feminization stories for some time, and it certainly shows.  Her stories are well-crafted and filled with the kinda of exquisite detail that makes these types of stories so wonderfully erotic.  With Femboy Finishing School, Rebecca Sterne treads some well-traveled ground, but does so with the kind of confidence and effect that only a longtime writer in the genre can manage.
Stacy lives with his step-mother, a small and weak boy who is easily led away from home by his seductive Aunt Alexis to a boarding school in a remote location.  While he expects this to be a typical boys' school, he is quickly disabused by this notion as he is stripped by the side of the road and forced to wear his step-mother's clothes.  From this moment, his life will never be the same…
I don't want to give too much away, despite the solid length of the story allowing for plenty to unfold, but it is so much more fun if you allow Sterne to lead you into the classrooms and late-night visits from his strict instructors.  In no time at all, little Stacy finds himself trapped in a feminization fantasy that results in a final scene of sublime submission.  There is plenty of room for the story to continue, but what is here is more than satisfying.
My biggest complaint is that the story itself certainly finds its roots in a well-worn trope, and while Sterne expands and handles the material with grace, there is still an air of the familiar about much of the proceedings.  That said, if you enjoy feminization erotica, you would be doing yourself a disservice not to add this one to your library.  It is a sexy and sultry read, with a pace that quickens just as the desires of Stacy him-(or is it her?)-self rise at the forbidden pleasures of his newfound femininity.  I hope there's more!