Review – The Femford School Part Two by Ann Michelle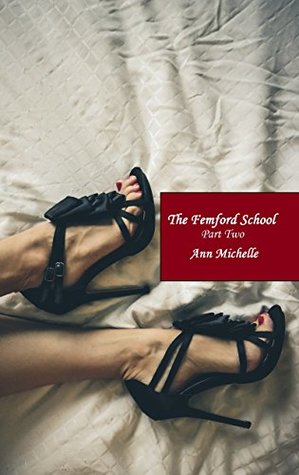 The Femford School (Part Two) (Femford School For Girls Book 2)

by Ann Michelle
on June 10, 2017
Pages: 138
Buy on Amazon
Goodreads


Each day Lewis remains trapped at the Femford School, he finds himself feminized further. Bit by bit, his masculinity is being stripped away. What's more, Vera has set into motion a series of changes that will forever alter Lewis's mind and body to make him Maria's submissive pet. Only Maria can save him now, but why does she keep dragging her feet? Can Lewis resist long enough to convince her to save his manhood?
I adored the first installment of this series, and it's no surprise I enjoyed the sequel/conclusion.  As always, Ann Michelle presents a literate and length story of feminization which makes the rest of us look lazy by comparison.
In our last episode, Lewis aka Laura had been confined to the Femford School for Girls after following his fiancee to her boarding school job in an effort to find out the secret of her workplace.  Now a student, Lewis finds himself in his future sister-in-law's hands, and Vera has never much cared for Lewis.  Prescribed a regiment of feminization and submission, Lewis's only hope of escape from his journey into femininity is his fiancee, Marie, who can pluck him from the school like an errant eyelash and return him to his life of masculinity and control.
As we begin this new story, Marie's role becomes more complicated.  While promising herself she wants a real man at her side, the effects of Laura's feminization is having an arousing effect on her.  Vera, her sister, is all too eager to parade her own feminized husband around as further temptation for Marie to abandon her thoughts of helping Laura to escape her fate.  As Laura struggles for freedom, the classes in submission and feminine comportment are taking their toll, and Laura's life as a man becomes a harder thing to conceive.
I won't give away the ending, but suffice it to say that Vera and Marie are equally satisfied with the results.
What makes Ann Michelle's work so good, aside from the luxurious length of her stories and attention to detail, is the clever manner in which Lewis-cum-Laura resists, despite the fact that we, the readers, understand that the changes have already taken hold.  It's an erotic suspense that I admire very much in her work, and I continue to enjoy reading Ann Michelle as I would any good story, with time on my hands and an interest in getting lost in a story.
She has managed once more to provide a literately kinky tale with distinct characters and a bevy of feminized beauties, all of whom resist their fates to one degree or another.  My personal favorite is Edgar, the boy who can leave at any time, but has his own unique agenda.  I'm sure you'll find your favorites, too, and I urge you to read this one as soon as you can!