New Story! Hostile Takeovers 2: Corporate Takeover Vol. 2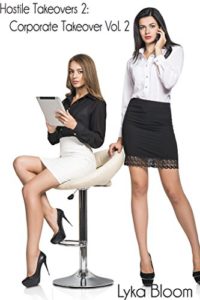 Here we are again!  With the release of the latest Corporate Takeover story, it felt like the time had come for another bundle.  Each volume of Hostile Takeovers collects four stories per collection, so, you know, value!
Raquel Benson and the Janus Institute have a very particular goal – to feminize their clients and create new lives for these newly-made women. Feminization, hypnosis and physical transformations combine to form a steamy collection of transformational tales!
With over 50000+ words of feminizing delight, this collection includes Corporate Takeover: Brothers to Sisters, Corporate Takeover: The New Sister, Corporate Takeover: Climbing the Ladder and Corporate Takeover: Brains and Brawn.
You can find a sample and links to everywhere you can buy right here!