Review: Slipping In: Gender Swap Erotica (Transgender Erotica, Gay, Femboy, Forced Femme, Sissy Fiction) (The Virtnet Chronicles Book 1) by Alyson Belle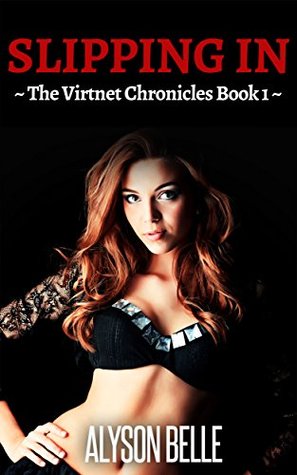 Slipping In: Gender Swap Erotica (Transgender Erotica, Gay, Femboy, Forced Femme, Sissy Fiction) (The Virtnet Chronicles Book 1)

by Alyson Belle
on July 20, 2017
Pages: 81
Buy on Amazon
Goodreads


Mike Wantry has always wondered what it would feel like to be a girl, and thanks to the magic of full-body virtual reality his dreams are finally possible! There's just one problem: All gender and sex programs are blocked on his VR machine.

When he finds himself home alone one day, he decides to "borrow" his step-sister's machine and see what it's like to walk a mile in her shoes. Everything is going well until her girlfriend Amy catches Mike in the act. She decides to have a little fun with him by showing him exactly what being a girl means!

Now Mike is in over his head and the action is getting hotter every second, but can he get out of his female VR body before he starts to like it a little too much? If Amy has her way, he might be stuck like this forever...

That would be terrible... wouldn't it?
In the interest of full disclosure, I did receive a message from the author, Alyson Belle, requesting a review of this story.
In many ways, Slipping In, the first chapter in Belle's Virtnet Chronicles, reminds me of a series of stories I did some time ago called Gamer Girl.  No surprise, then, that I should be interested in checking out a story that involves gender swap fantasies and technological means of transformation.  And from a new author!  And the further surprise came after finding myself halfway through the story and discovering I had found another author to add to my must-read list!
While Slipping In isn't the most fiercely original stories in our genre, it is a remarkably good opening salvo in a series that has a great deal of promise.  The story features the young and feminine Mike, who forever lives in the shadow of his step-sister, Kyla.  Not only does she have her pick of the boys at the siblings' shared high school, but she is able to get away with using her Virtnet device (an advanced virtual reality unit with a brain interface and full-body stimulation) in all manner of naughty ways while Mike's is locked down by parental controls.  When Mike goes hunting for his step-sister's methods of circumventing their parents' controls, he instead finds himself at the mercy of Kyla semi-secret lesbian lover, Amy.  Using the tools at her disposal, she gives Mike an evening he won't soon forget.
Alyson Belle knows how to tell a story and does so with a great degree of confidence and enjoyment.  The family dynamics in the story are well-drawn and significant and the steamier scenes are equally well-told and certainly satisfy as a clever fantasy well-realized.
In fact, my only complaint with the story is one I have with many who use much of their work's space to advertise other stories.  I try only to point this out when things are egregious, and, in this case, I was less than 70% through the story when the samples for other work began.  Of course I will read those other stories, especially given the quality of Belle's writing, but it is nonetheless frustrating to be enjoying a story, only to find it end well short of the expected length.  It's a small complaint, but one that frustrates me often.
In all, Slipping In is a very good read with plenty of promise for more to come.  Thanks to Alyson for dropping me a line and giving me a chance to read a truly enjoyable tale!