Review: Sissy Maid: For a Kinky Couple by Kella Z. Driel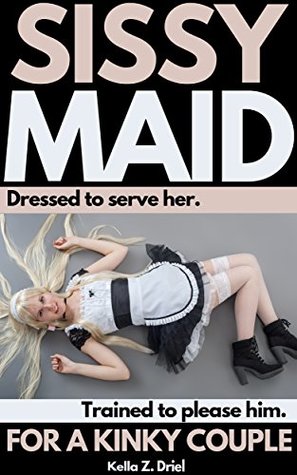 Sissy Maid: For a Kinky Couple: Dressed to serve her. Trained to please him.

by Kella Z. Driel
on April 26, 2017
Pages: 20
Buy on Amazon
Goodreads


Jacob is a boat-sissy, answering to the name 'Jenny' in a little sailor skirt. He serves aboard the yacht of his Mistress, cleaning, serving, and catering to her every whim. He's her little secret--or so he believes.

But when they land in Australia, she plans to meet her husband. Even worse, the husband wants Jacob to wear a humiliating costume!

The costume is the Maidfit-1, a high-tech prototype that will further transform, feminize, and sissify Jacob's body into that of a pleasing and submissive maid!

He's terrified--but how can he resist? He's a sissy now, obedient to all women, pleasing to all men!
You know you're reading something good when it forces you to examine your own kinks. As a longtime writer of gender swap fiction, I admit that my focus tends to shy away from stories of sissies and bondage. That doesn't mean I don't enjoy those stories, I just don't seek them out as a rule. I am pleased to find my own limits pushed by the steamy Sissy Maid: For a Kinky Couple, however.
First, Kella can write a story. Aside from a few typos here and there, too few to be a problem, she dispenses with an overarching narrative in favor of a focus on one sliver of experience, namely that of Jenny Sweet, the assumed sissy name of Jacob, a devoted submissive to his Mistress Buffy. Following a feminizing boat trip to Australia, Jacob is given a new gift by his Mistress's husband, Richard. The Maidfit-1 is a new device, developed by Richard's company, designed to serve as a maid uniform and a symbiotic tool to train the sissy's body and mind into a more pleasing form.
At first, Jacob is reluctant, torn by both his desire to be a sissy servant and the thought that he will soon encounter his first dominant male in the guise of Buffy's husband. Once on their estate, Jacob, or Jenny Sweet, realizes she is not the only servant, and is inducted into her new home by Master and Mistress alike.
While the plot isn't necessarily the focus here, there is enough story and detail to give it the narrative weight the story needs to do its real job – being hot as all get out. From the first pages, readers are given a peek into Jenny's life as a sissy, the way she serves and the way she pleases. Fans of sissy BDSM are going to love the humiliations and the decidedly submissive nature of Jenny's experiences. When she encounters a fellow sissy, Jenny's role is further defined in a sexy scene of four-way pleasure.
Kella writes to tease and please her readers and this is a great example of efficient storytelling coupled with intensely sexual and sometimes surprising moments of exploration. It may not fall explicitly within my range of interests, but there is no question that it's one big turn-on of a story. If sissies, discipline, humiliation or wanton and liberal sex interests you, this is a quick and delightful read that should be immediately added to your collection!