Review: I Didn't Steal My Sister's Panties! by Courtney Captisa and Claire Bear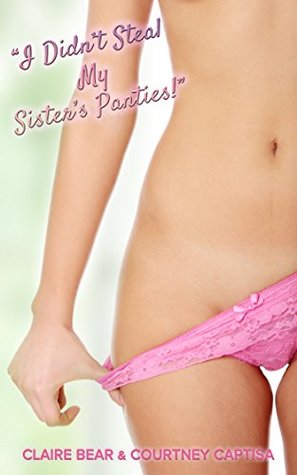 I Didn't Steal My Sister's Panties!

by Courtney Captisa, Claire Bear, Mindi Harris
on April 13, 2017
Buy on Amazon
Goodreads


Ally and Jacob's sibling rivalry runs deep but has just escalated to the point of Jacob telling their mom about his sister's drug habit. For revenge, Ally decides to plant some of her panties in her brother's room as payback. Their mom Cindy is civil, but wants the best for her children and calmly asks Jacob about why he is wearing his sister's panties.

The situation continues as Jacob is forced to wear his sister's panties to school. Why do people keep laughing at him? Did anyone notice his panty lines or lacy fabric above his jeans? Why does the guidance counselor keep asking so many questions?

Struggles continue as Jacob develops a deeper relationship with his neighbor Sarah who seems to be the most understanding of all. Does she like seeing guys crossdress?

Written by Claire Bear and Courtney Captisa

Edited by Mindi Harris

Cover Photo Edit by Alexis

Keywords: transgender, LGBT, fantasy, forced feminization, crossdressing

Tags: Hair or Hair Salon, Hormones, Prom Girl or Fancy Dance, School Girl, Caught with Consequences, Crossdressing/TV, Physically Forced or Blackmailed, Real Life Situation, Revenge, School Girl, Slow Transformation, Sweet/Sentimental

Word Count: 16,000 +

Warning: No sexual situations but graphic detail of crossdressing and situations. For fans of crossdressing and gender transformation only 18+
I am a fan of stories of reluctant change, and Courtney Captisa and Claire Bear are always good for a story of rival siblings and vengeful feminization. As with many of their stories, there are some grammatical hitches and awkward turns of phrase, which are unfortunate considering how much I enjoy their stories.
In this tale, Jacob and his younger sister, Ally, are frequently at odds, fighting in loud and dramatic ways. When Ally feels she has been slighted by Jacob, she plants a pair of her panties under Jacob's bed for their mother to find. With the frilly evidence in hand, Jacob is sentenced to wear his sister's underwear to school for a day. Ally, not content for this humiliation to be silent, reveals his secret to the school.
Their mother is convinced by Ally that Jacob is transitioning into a gender role he feels more comfortable with, and the best moments of this story are the turns where Jacob is forced to contend with the positive feelings he experiences while dressing en femme.
There is no explicit sexuality in this story, nor is it fantastical in any way, once you move past the readiness with which Jacob's mother is willing to support Jacob's feminization. Still, it is a fun, if unsurprising, read, with enough detail to invite the reader into Jacob's experience and fine descriptions of his journey into femininity. Worth a read for those who adore the slow, realistic transition of a young man at the hands of a vengeful sister.