Review: Femford School for Girls (Part One) by Ann Michelle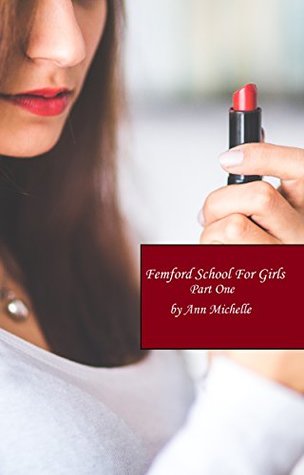 Femford School For Girls (Part One)

by Ann Michelle
on May 24, 2017
Pages: 131
Buy on Amazon
Goodreads


Femford School for Girls (Part One): Lewis Stevens thinks his fiancée is having an affair at the secretive girl's school where she works. He decides to sneak into the school to find out. Little does he realize that this girl's school has another purpose. Now he finds himself trapped and going through their program. Can his fiancée help him? Will she want to?

For Mature Audiences Only. This 33,600 word story includes female domination, forced feminization, cross-dressing, pegging, spanking, paddling, hormones, power exchange, erotic humiliation, and so much more.
So many times I wish I story were longer, given more time to breathe and grow and become something special.  I suppose that's why I find Ann Michelle's work so alluring.  As an author, she doesn't hurry to get to a particular point, or rush the reader from one sexcapade to another.  She gives us time to know a character and then lets us, as readers, experience something life-altering alongside the narrator.  I fell in love with Ann's work when I read Grounded in Heels, which I should get around to properly reviewing one day.
With Femford School for Girls (Part One), I am again reminded of why I like her work so much.  It's a simple premise, to begin with.  Lewis and Marcia are engaged to be married, but Lewis is worried about the secrecy surrounding Marcia's work.  He knows she is a teacher at a girl's academy, but her reluctance for him to visit when she is away at the boarding school, coupled with his own anxiety leads Lewis to follow her to the town of Femford, where a very special school lies in wait.  He gains entry to the school grounds on the basis of a false pretense, but quickly finds himself counted among the students following a meeting with the stern Headmistress Hunter.  As he is treated to all of Femford's educational (read: feminization) opportunities, he must find a way to escape with the (possible) aid of his wife, an instructor at the school.
Ann Michelle has a very matter-of-fact style of writing that delivers the story in an oddly realistic manner, making some of the changes Lewis encounters very believable and more than a little exciting.  Lewis's changes come slow, and the reader is treated to an evolving femininity that Lewis might resist, but we can see how girly he is becoming.  It's a wonderful tension, and, when Marcia's vengeful sister is brought into the mix, we are given the promise of much more substantial changes to Lewis's outlook on life.
If I were to nitpick, there are a couple of misplaced words, but so minor to be barely worth mentioning considering the size of this story.  Also, fair warning, this is the first of a multi-part story, but there is more than enough here to make it worth your while as a reader without feeling as if you're reading the set-up for a much better story to come.  Don't get me wrong, I am excited to read Femford Part Two, but I am perfectly content with what Ann has given us in this first installment.
The characters are conflicted, the setting is a stunner and the cast of characters drifting around the perimeter of the main story are all compelling in their own right.  I certainly want to know more about Edgar, the Femford student who may have entered the school for more reasons than punishment, or Vera and her sissy… it's a richly layered and populated tale that should be read by anyone who likes their feminization tales with more than just a quick release in mind.  It's another success for Ann Michelle and those of us who enjoy her work.  If you haven't read Ann Michelle or Femford School for Girls (Part One) yet, do yourself a favor and jump in!  It doesn't get much better than this!