Review: Becoming a Frat Girl by B.J. Sackrider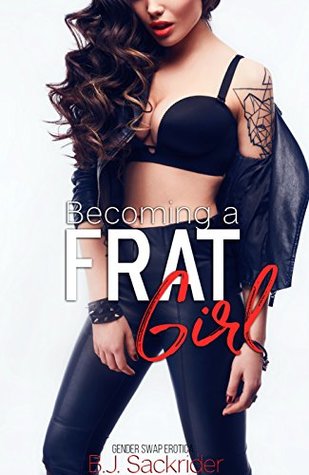 Becoming a Frat Girl: Gender Swap Erotica

by B.J. Sackrider
on September 6, 2017
Pages: 126
Buy on Amazon
Goodreads


Before today, I never knew what it would feel like to be a woman...
Does college frat boy Trey consider himself gay?

No.

But, after Trey visits a mystery medicine man outside of town, he has to confront his girly side....
...in front of his fellow frat brothers.

This story is a second edition and now comes with FREE BONUS STORIES in the back by author B.J. Sackrider.
This has to be one of the more frustrating stories I've reviewed lately.  On the one hand, "Becoming a Frat Girl," is a well-written bit of erotica.  It even boasts one of the more unusual dynamics I've seen in a story lately, namely that two frat brothers, Trey and Jason, find themselves at a point of confusion when their relationship becomes characterized by hidden meetings in which Trey performs oral sex for Jason.  Eager to keep their secret, the pair enlists the aid of the 'Cram Man,' a folk-medicine figure living at the edge of town.  Obviously for these stories, the Cram Man's solution will be a little more life-altering for Trey than he anticipated.
After the trip to the woods for his medicine, Trey finds his body altered to make his habit of oral sex on the boys of the frat a bit more normal, i.e., he wakes to find himself a girl.  Once he does, he is immediately taken to the frat house to show off his blowjob skills while under the Cram Man's spell.
Despite the book's length, this story makes up only about twenty percent of the book's page count.  Also included is a bonus story entitled "Futa Dominatrix," which features an encounter between a man on his birthday and his futa Mistress, and another entitled "Submit to the Futa."  in which a man accompanies his female friend to an S & M club finds himself in the seductive clutches of futa dominatrix.  And, finally, there is "Futa's Plaything," where a college girl finds her professor may have some surprises in store for her.
All but the titular story involve some touches of BDSM, which is enjoyable in the context of the stories, but I am torn by the fact that what I had purchased was, in theory, a lengthy story involving feminization of a frat student.  While the description does suggest bonus stories, the fact that the three additional stories are neither named, nor is it expressed in the description that the bonus stories comprise more than 70% of the book's length.  The stories aren't poorly written, and "Submit to the Futa" is a particularly fun tale, but I can't help but feel that there is an element of dishonesty in the way the book's contents are presented.
Still, if you're looking for a good collection of stories, this isn't a bad option.  I wish Sackrider was a bit more descriptive in the presentation of the stories, but it's a pleasant and occasionally steamy diversion, nonetheless.